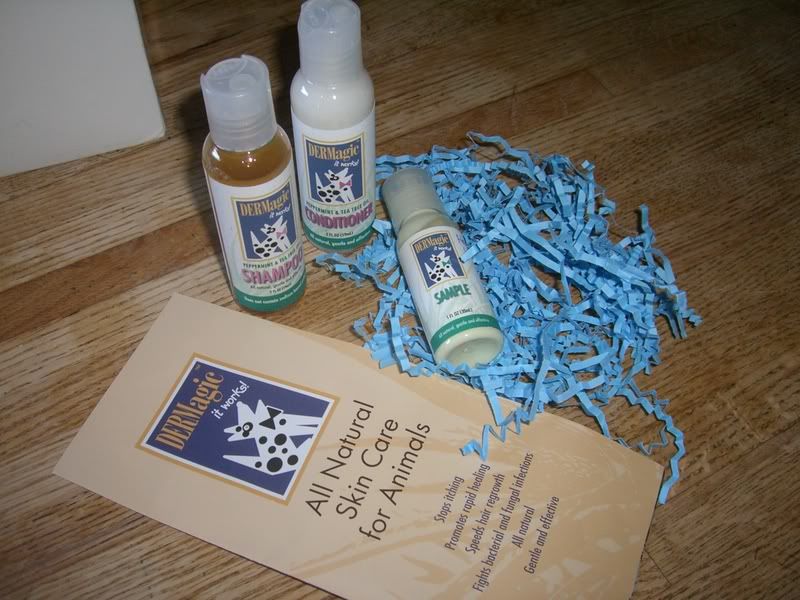 Recently, I was fortunate to receive free samples of
DERMagic
- a dog shampoo, conditioner, and hot spot treatment.
I had planned on trying them on my son's new puppy, Hershey. Unfortunately, Hershey died of distemper just four weeks after we had adopted her from an animal rescue group.
My next thought was to use the shampoo and conditioner on our cats, Grace and Bandit. Well, Grace had spent a
day of
beauty at the spa, instead, which left only Bandit.
Luckily, I told Jennifer, the PR rep, about my plans and she stopped me just in time.
Good advice to pet owners - dog products are not always suitable for cats, nor vice-versa. DERMagic for dogs contains peppermint and tea tree oil which are not beneficial for cats.
My neighbor kindly let me borrow Bailey, a pug & boxer mix. Bailey loved coming over and getting pampered in my kitchen sink. The DERMagic shampoo smelled really nice and pepperminty, Bailey seemed to be enjoying the scent. It lathered great and rinsed off easily. The conditioner made Bailey's fur feel soft and silky.
It's been four days since I gave Bailey her bath. She still smells great! I would highly recommend DERMagic products. See their website to order
online
, or look for a salon in Oregon or Washington which carries the products.
Photos:
corsi photo