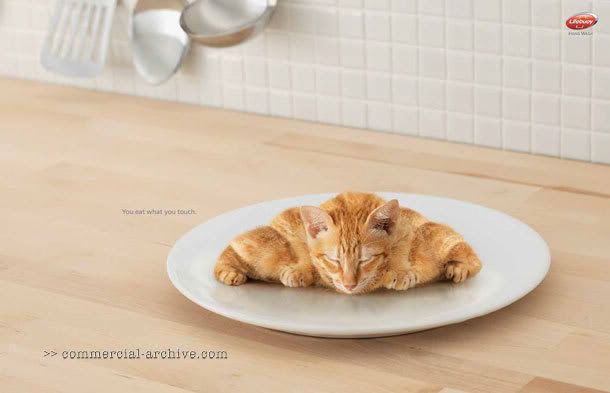 Hand soap brand Lifebuoy takes aim at our increasingly germaphobic society with this new ad campaign. "You eat what you touch" is their tagline.
These surreal images of a kitten croissant and a hamster muffin are not creepy breakfasts made from pets, but are instead meant to stress the company's message of hand-washing hygiene.
It is a creative way to get attention and perhaps even encourage non-germaphobes into thoroughly washing up before they eat.
The ads were created by the advertising agency Lowe of Jakarta, Indonesia.
(via
Trendhunter
)
BTW
Lifebuoy is a brand of soap was originally marketed by Lever Brothers in England beginning in 1895.
The term "B.O.", short for "body odor", was coined by Lifebuoy for an advertising campaign. The Lifebuoy radio ad, parodied by several Warner Brothers' Looney Tunes cartoons, used a foghorn-type sound to create the "B.O." sound. (
wiki
)