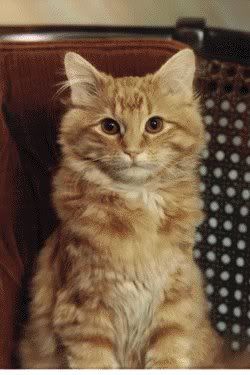 Dewey Readmore Books was the resident cat at
Spencer Public Library
.
He was put in the book return one cold January night in 1988. When the staff found him the next morning, they decided to adopt him. After the library's board of trustees and the city council approved, the kitten was declawed, neutered, and given the proper vaccinations. A contest was held to pick a name, and Dewey Readmore Books was officially added to the staff. The staff cared for Dewey and donated their pop cans to feed the kitty. Patrons and friends from as far away as New York have donated money for Dewey's food.
Dewey passed away on November 29, 2006 due to complications from a stomach tumor. He had become very frail because of hyperthyroid disease for which he was receiving medication. He died in the arms of the library director, Vicki Myron. He had just celebrated his 19th birthday eleven days before he died.
Vicki Myron, the director of Spencer Public Library, has written a book about the impact Dewey had on her life,
Dewey: The Small-Town Library Cat Who Touched the World
Through her developing relationship with the feline, Myron recounts the economic and social history of Spencer as well as her own success story—despite an alcoholic husband, living on welfare, and health problems ranging from the difficult birth of her daughter, Jodi, to breast cancer.