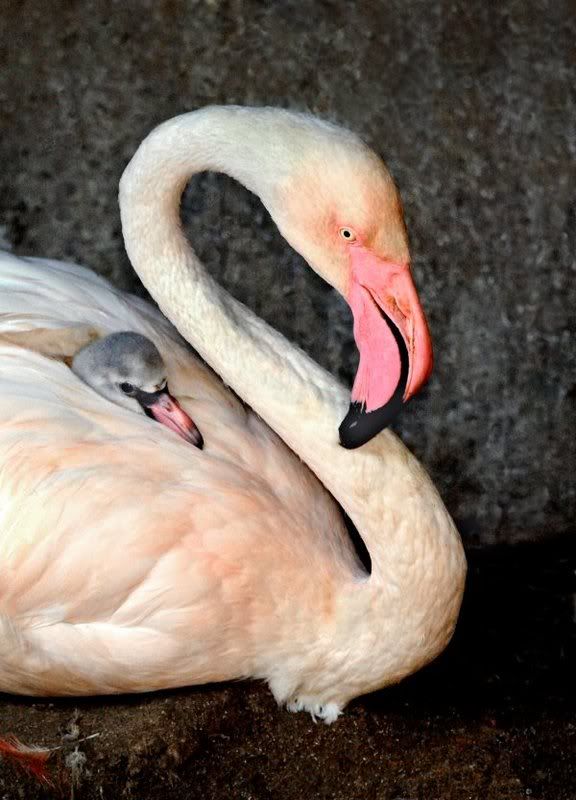 The Los Angeles Zoo and Botanical Gardens is pleased to announce the hatching of two greater flamingo chicks, hatched on Tuesday, June 24 and Sunday, August 3. Both chicks are being reared by their parents in the lower walk-through aviary.
The greater flamingo is a social bird that breeds in colonies of tens to hundreds of thousands of birds in the wild. When they mate, they tend to pair for life. The male and female share duties when it comes to raising their chick. For example, they build the mud nest together, collectively care for the egg during the 28 – 32 day incubation period, take turns feeding the youngster and defending the nest.
Flamingos are hatched with grey color down feathers, short legs and a short, straight pink bill. They are fed a liquid secrection called "crop milk" until the chicks are fully developed. The flamingos' pink and red plumage develops at about two years, with the feathers, legs and face coloration derived from the food found naturally in their diet of small shrimp, worms and algae. In zoos they are fed a special diet which helps them retain their color.
The greater flamingo is the largest of the six species of flamingo and has the widest of distribution. They are found in freshwater and saline habitats throughout southwest Europe, Africa, the Middle East, southwest Asia, India and Sri Lanka. Their exceptionally long neck and legs, and unique bill are adaptations for feeding. The flamingos plumage varies in color from almost white to bright pink with black primary and secondary flight feathers. They can fly long distances, up to 300 miles traveling mainly at night to find food. Flamingos like to rest and sleep standing on one leg, with the head laid on the body and the other leg tucked under the abdomen. What appears to be the flamingos knees are actually their ankles, which bend to the rear when they sit down. The greater flamingo is on display in the Zoo's aviary with a variety of exotic bird species from around the world.
The Los Angeles Zoo and Botanical Gardens is located in Griffith Park at the junction of the Ventura (134) and Golden State (5) freeways. The Zoo is open from 10 a.m. to 5 p.m. daily. For general information, call (323) 644-4200 or visit the website at
www.lazoo.org
.
Photo credit: Tad Motoyama