Eleven-year-old gorilla Gana was holding her three-month-old baby Claudio in her arms on Saturday in her compound at the zoo in Munster, northern Germany, when it suddenly died.
Initially puzzled, Gana stared at the body, bewildered by its lifelessness.
For hours the distraught mother gently shook and stroked the child, vainly seeking to restore movement to his lolling head and limp arms. Visitors to the zoo openly wept as they witnessed her actions.
Hours passed, during which Gana continually prodded and caressed the dead child, to no effect.
But still she refused to give up hope. Gently placing it on her back and slowly walking around the compound, she stopped every few paces to look back and see if her much-loved son had returned to life.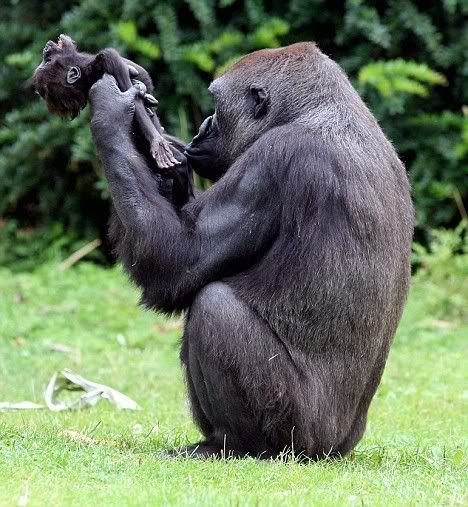 'Claudio died in his mother's arms - we think from some heart defect,' said zoo director Joerg Adler.
'On Wednesday he didn't seem well. On Friday he wasn't eating or drinking and was growing weaker. We were keeping a close eye on him but suddenly, on Saturday morning, he died.'
Still think animals don't have feelings?
Source:
MailOnline
But hold on ---
This is not Gana's first experience with motherhood.
Last year, she gave birth to her first baby, a female named Mary Zwo. Gana rejected Mary Zwo for six weeks. Staff at the zoo finally intervened and rescued the baby, which was taken to a veterinary hospital with dehydration and exposure. Mary Zwo was never returned to her mother and has lived at a zoo in Stuttgart with four other gorillas ever since.
This time, Münster Zoo rejected the idea of stepping in to save Claudio. "There was no point in intervening again," said Mr Adler. "We cannot keep on taking away children from a mother."