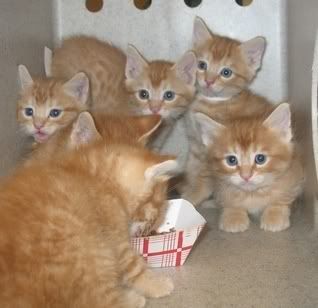 Six orange tabby kittens were rescued because of the keen senses of Angel, a boxer/pit bull mix, who was recently surrendered to the
Nevada Humane Society
.
Frank Gomez and his 9-year-old stepson, Joel Fontes, have been regular volunteers at Nevada Humane Society this summer. The pair were volunteering on Monday, walking their favorite dog. Angel, a 2-year-old dog that came to the Humane Society's shelter after her owners moved without taking her along.
The walk was brisk, but was interrupted when Angel became obsessed with something in the bushes.
Gomez assumed it was Angel's inquisitive personality at play and didn't take it seriously.
But Angel refused to give up and Gomez discovered six 3-week-old orange tabby kittens in a box where they were abandoned.
Humane society staff were summoned, but not before one of the kittens escaped from the box. After returning to the scene, Angel led Gomez to the lost kitten, who picked her up and handed her over to safety.
(via
L.A.Unleashed
)