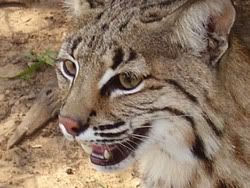 Ginger has lived with Sharon Glidden since the cat was three weeks old. Sharon has trained her as lovingly and as carefully as she could considering her wild nature.
Sharon happened to be alone one day when this bobcat did something surprising. Ginger the bobcat started using the toilet. "Well, when she was 6 or 7 months old, she saw me go and I got up to brush my teeth and she decided she needed to go," said Glidden.
It was a little indelicate, but Sharon had to prove to her husband she wasn't crazy, so she grabbed her video camera.
A couple of weeks later Ginger was using her bathroom three times a day and it wasn't a big deal anymore.
Watch the msnbc video of Ginger
in action.
Ginger and Sharon live at
Tiger Mountain Ranch
in Oklahoma.
Source:
KOAA.com