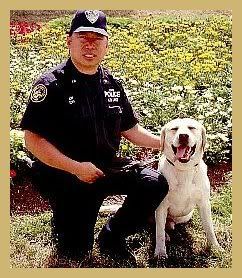 Police K9 Sirius was a bomb detection dog with the NY/NJ Port Authority Police Department. He and his partner, Police Officer David Lim, were assigned to the World Trade Center.
The morning of September 11, 2001, Sirius and Officer Lim were at their Port Authority Police Station in the basement of the World Trade Center's Tower Two. When Officer Lim heard the sound of an explosion, he thought a bomb had gone off inside the building, and he commented to Sirius, " ... one must have gotten by us."
Thinking he'd be more effective freehanded, Officer Lim left Sirius in his kennel telling him, "I'll be back to get you." as he rushed off to help with the rescue effort. At that time, he couldn't think of a safer place for his canine companion to be than in the basement while he was up doing the rescues.
Officer Lim didn't make it back though; he became trapped in the falling debris of Tower One and wasn't pulled out until more than five hours later. Sirius, however, perished in the tragedy, leaving Officer Lim without his faithful partner.
"He was very special," Officer Lim has been quoted as saying. "All dogs go home with us, so not only was he my partner, but he was also my pet and my friend." The bond between a K-9 and his master is special, and while David realizes the human tragedy will overshadow the death of his dog, he still misses Sirius. "We were very close; no matter where I went, he went. Whatever I asked him to do, he did. He never complained. Sometimes we'd be working for long hours, searching hundreds of cars or trucks, and he'd just look at me like, 'What do you want me to do now?' " Read more at
Sirius' memorial page at Rainbow Bridge
.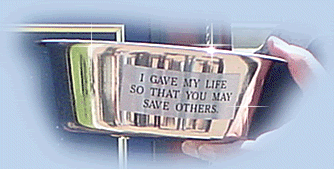 Sirius was the only police dog to die in the collapse of the World Trade Center after the terrorist attacks on September 11, 2001. He was posthumously awarded the Victoria Cross by the British Embassy in Manhattan.
On April 24, 2002, more than 200 people and K-9 units from around the country gathered in Jersey City, NJ, at Liberty State Park, to pay tribute and to honor K-9 Sirius. In attendance were more than 100 police dogs and their partners. The service included a 21-gun salute, bagpipes, the reading of a poem by a school teacher from Illinois and plenty of barking.
Sirius is the only police dog to die in the Port Authority's 80-year history. Read more about the
Memorial Service to Sirius
.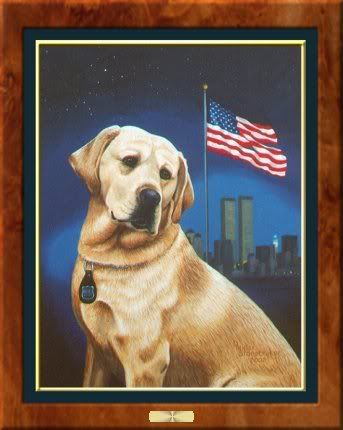 "Salute to Sirius"
© 2002 by
Debbie Stonebraker, Artist,
from Foley, Missouri
Privately commissioned by Sandee Nastasi of Long Island,

as a gift to the NY/NJ Port Authority Police Department K-9 Unit
P.O. Lim received a smaller water color version of the painting