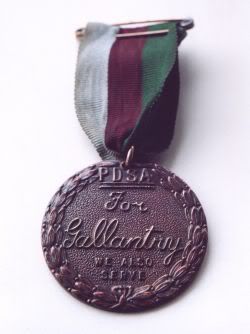 The Dickin Medal was instituted in 1943 by Maria Dickin to honor the work of animals in war.
It is a large bronze medallion, bearing the words "For Gallantry" and "We Also Serve" within a laurel wreath, carried on ribbon of striped green, dark brown and pale blue. Traditionally, the medal is presented by the Lord Mayor of the City of London. It has become recognized as "the animals' Victoria Cross". As of February 2008, it has been awarded 62 times. (
wiki
)
The Medal, which can only be considered on receipt of an official recommendation, was awarded 54 times between 1943 and 1949. The recipients comprised 32 pigeons, 18 dogs, three horses and one cat.
In October 2000 a Canadian dog called Gander was added to the Roll of Honor. Since then, a further six Dickin Medals have been awarded and all to dogs.
Tthe only cat to be awarded the Dickin Medal is Simon.
Awarded posthumously 1949, the record states that Simon "Served on HMS Amethyst during the Yangtze Incident, disposing of many rats though wounded by shell blast. Throughout the incident his behavior was of the highest order, although the blast was capable of making a hole over a foot in diameter in a steel plate."
You can read the list of recipients at
PDSA Dickin Medal: 'the animals' VC'
. You can see more pictures of brave animals at BBC's
World's Hero Pets
.